Table of Contents
An Introduction to the Cloud in Healthcare
Is the Cloud Right for your Organization?
Protecting your Organization and Cloud Security
An Introduction to the Healthcare Cloud
An Introduction to the Healthcare Cloud
"The Cloud" has been one of the biggest buzzwords in healthcare over the past 3-5 years, but for many organizations there are still as many questions as answers.  One of the reasons for this is that people use the term "cloud" to mean many different things.  A simple way to understand the cloud is that it is a way to make computer systems, applications, and data available over the internet.  And while it started as a way for organizations to store some simple data, it has now become a strategic mechanism that many use to gain efficiencies, manage costs, and extend their IT resources.  According to a recent HIMSS Analytics Survey, over 83 percent of healthcare organizations are already using cloud technology, and that is expected to reach a value well above 90% by 2020.
A Strong IT Infrastrucutre
A Strong IT Infrastructure
A concept that we stress with healthcare organizations is that before decisions are made about moving their IT infrastructure, there should be a strategic IT plan in place.  By defining an organizational IT strategy, there is assurance of better alignment between IT and the overarching business needs and goals.  This creates a path to understand what new programs, services, and systems may be coming on the horizon, what the budgetary constraints may be, and the IT resources that will be needed to deliver on these needs. An IT infrastructure analysis is a great way to audit each piece of the IT puzzle, identifying potential gaps or weaknesses that can be solved in the future.
Is the Cloud Right for You?
Is the Cloud Right for You?
There are many different options for hosting your IT infrastructure (see chart below).  In the past, many healthcare organizations centralized their hardware in their own physical facilities.  The main reasons for this was the sense of security and control that it provided IT leadership, along with a lower direct cost.  As technology advanced, and costs decreased, it became more common to move hardware to colocated data centers or create hybrids between on-premise hosting and the cloud.  Today, the advantages to cloud computing are getting so pronounced that adoption is hitting a tipping point in the healthcare industry.  Some of the reasons for this include:
Scalability/Flexibility – The concept of "right sizing" is very important for behavioral health organizations because it allows alignment between your resources to the actual needs of your organization.  You only pay for what you use when you use it and can easily reach to additions/reductions in staff or programs
Reliability – Downtime and outages are extremely costly. A well developed cloud mitigates and manages risk through a highly available architecture, backups, and disaster recovery
Strategic Alignment – The cloud allows many organizations to leverage state-of-the-art technology and resources that they wouldn't have access to otherwise. It also creates a path to free up the internal IT team to concentrate on end user customer service instead of server fire fighting.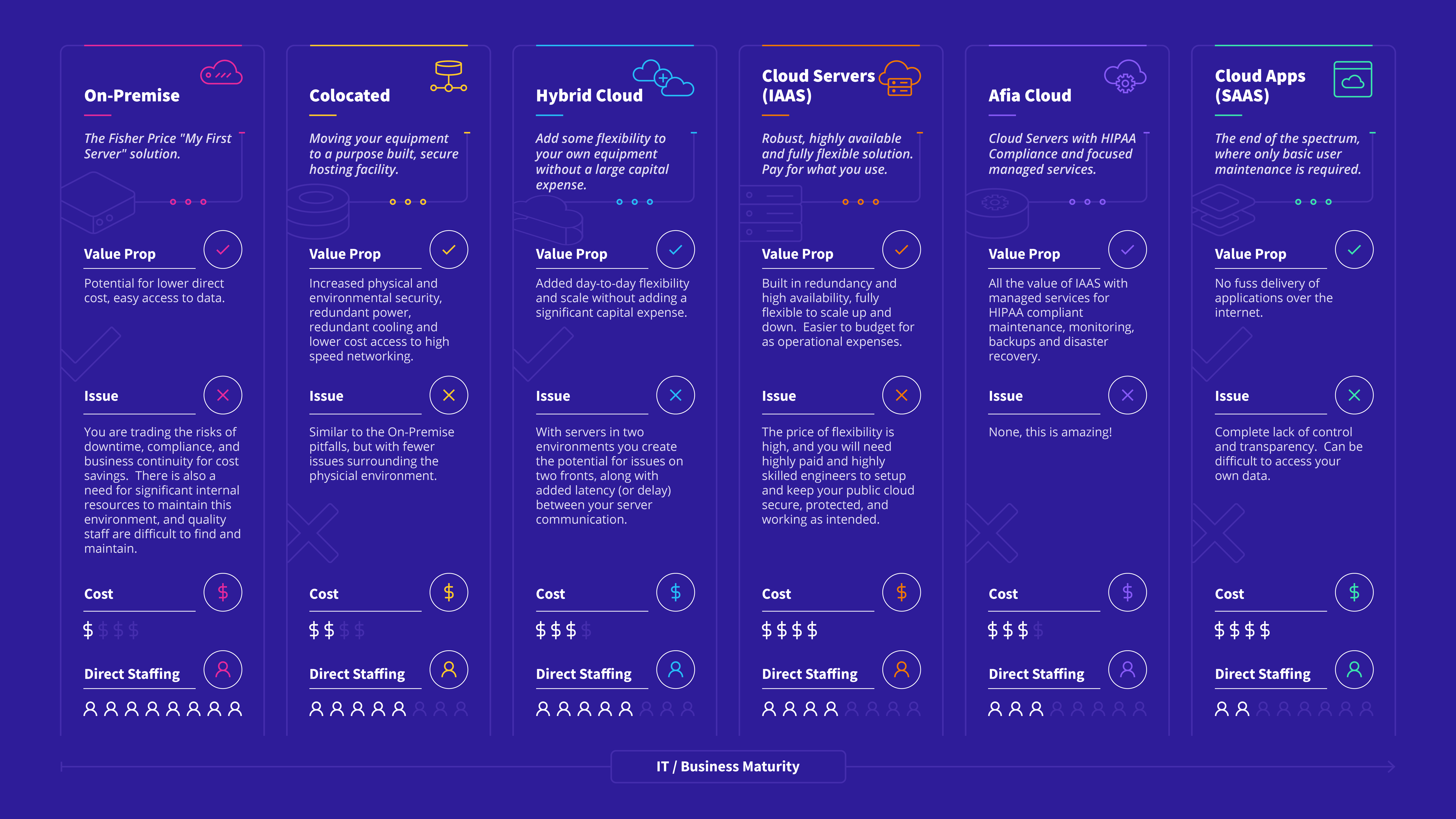 Maintaining a Secure Infrastructure
Maintaining a Secure Infrastructure
Healthcare IT leadership have viewed cloud computing with quite a bit of skepticism since its inception.  Much of this has been driven by the "HIPAA scare" and the need to trust an external entity with protected health information.  But now, with constant ransomware attacks and HIPAA breaches, organizations are realizing that their business continuity practices aren't nearly as good as they should be. IT staff are too busy putting out fires and aren't taking care of the blocking and tackling (updates and patches) that is so important with servers and other hardware.
By leveraging managed services with a cloud provider, organizations can feel more secure because expert staff will handle the updates, patches, backups, and disaster recovery solutions for their organization.  And as long as the cloud provider is familiar with healthcare practice, they'll do all of this within the confines of HIPAA rules and regulations.