Welcome back to our series, Positioning Your Company for the Future of Healthcare. Over the next several weeks, we'll walk you through the current state of healthcare and the concrete actions you can take to position your organization for success in an evolving landscape.
Step 2 – Proactive Patient Health Management
As your team's foundation solidifies, it's time to start looking at the clinical and financial trends that are going to define the next decade in healthcare. The one that stands out above all others is the shift to more comprehensive, holistic care for patients. Over the next five years, healthcare providers and health systems are going to be "forced" to more efficiently care for their patient's health. Not just their physical health. Not just their behavioral health. Their whole health.
There is too much data to ignore the connection between the physical, behavioral, and social determinants that keep people healthy throughout their lifetime to continue to treat symptoms in a disconnected manner. Individuals with a severe mental illness will die, on average, more than 20 years before someone without mental illness. It also has the potential to cost the system five times more to care for a person with a mental illness or substance use disorder.
The good news is that this is manageable if we catch it early. Once a person is sick, it's too late; the burden is too high. Healthcare systems around the world understand this cycle. It is a shift toward proactive population health management and the value-based initiatives that will define the future of healthcare reimbursement.  For healthcare organizations to thrive in this environment, they will need to be vigilant in managing their positive clinical outcomes, while stabilizing or even reducing the costs it takes to provide this level of care.
Concrete next steps
The most important step in this process is to create a culture of health and recovery within your organization. While this sounds like a grandiose concept, it's not. Many organizations get so distracted by the day-to-day headaches that come with being healthcare providers; they lose sight of some of the details that can make a difference in the lives of those they're treating. Bringing these details to the forefront of the organization through leadership, communication, and workforce development is essential.
The first fundamental aspect of this process is developing a comprehensive and holistic strategy for treating the whole health of the population you serve. This plan will look different for various types of providers, but the reality is that everyone needs the tools to understand and monitor the status of their clients' physical and mental health. In developing this approach to integrated health, it will be important for organizations to evaluate the clinical and financial models that align with their organizational goals, reimbursement opportunities, and regulations, to choose a model that will make them successful.
Once the model is defined, it is time to operationalize it. The most pressing piece is implementing workflows and systems across all organizational areas to monitor and manage your clients proactively. This structure creates a backbone for the service delivery model and marks a significant change in how organizations manage consumers and outcomes. Once in place, staff will need to be trained, trained, and trained some more until they are completely comfortable with the why and the how of the updated care model and workflows.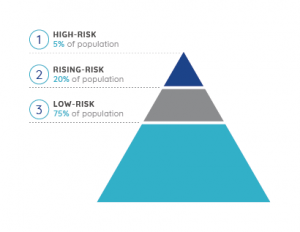 The final piece in this step is to begin using the implemented systems and workflows to define stratifications of clients based on their identified risk factors. The defined stratifications are the beginning of becoming a data-driven organization.
In the United States, the top 5 percent of people account for almost 50 percent of our healthcare costs, and the same concept translates to individual organizations. A small percentage of clients will drive costs and will account for a majority of adverse outcomes within an agency. Proactively focusing on these individuals allows staff to concentrate their time and energy on the clients that will continually need more attention to improve their health.
Click here to read part three of the series on The Future of Healthcare where we focus on Proving Quality Patient Outcomes with Data.
All Thought Leadership