The challenge
It's been said that you can "tell a lot about people by the way they handle three things:  a rainy day, lost luggage, and tangled Christmas tree lights (Maya Angelo)."  It was the week of Christmas, and Community Connections DC (CCDC) had a set of "tangled Christmas tree lights":  they experienced a hardware failure that brought their entire EHR to the ground.  Four "rainy days" later, Christmas Eve afternoon, still trying to "untangle their lights" and restore the systems and data, they calmly called Afia to help troubleshoot the issue. 
Afia's IT team coordinated with CCDC and put together a plan that untangled all of their lights and brought them back up within 24 hours. 
CCDC still had some "lost luggage" because the hardware failure wiped out some of their most recent information captured in the EHR.  Keep calm and call Afia.
Setting the foundation
Afia's IT team moved CCDC's systems to the cloud, creating a secure and compliant infrastructure that guaranteed uptime, high quality backups, and disaster recovery.  A very merry Christmas to all, and to all a good night! 
Needless to say, CCDC's New Year's resolutions had everything to do with keeping Afia close at hand.  Throughout the next year, Afia worked closely with CCDC to define the type of user experience they wanted to create, and then migrated their systems into the Afia Cloud.  At this point, CCDC trusted Afia with the responsibility of the day-to-day maintenance of their systems, and Afia ensured a secure and universally available platform for CCDC staff.  This allowed the CCDC IT team to concentrate on user experience and support structure for staff.  How energizing!  With the cloud in place, it also created a more flexible and adaptable infrastructure for a quickly changing organization, while flattening the costs of the past hardware/software purchases that they had to take on when self-hosted.
Advancing through analytics
A year later, CCDC decided that they needed to progress from the static reports that they were using to manage their organization to a platform for business intelligence.  Once again, they turned to Afia.  But when it rains, it pours.  CCDC was experiencing extreme cash flow constraints.  Afia coordinated closely with CCDC COO Mimi Scotchmer and CAO Joe Cullinan, and figured out how to help solve this problem.  Afia worked quickly to create dashboards to visualize the trends and issues that CCDC was experiencing and brought in its financial experts to help review CCDC's data.  Together, CCDC and Afia implemented a series of messages, incentive changes, expectation setting notices, and monitoring tools that went "live" in July. Prior to this change, revenue was down compared to the previous two years.  But at this go-live mark in July, revenue was higher than the comparative prior two years.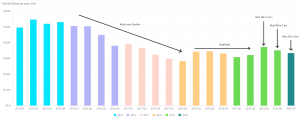 Additionally, timeliness DOUBLED!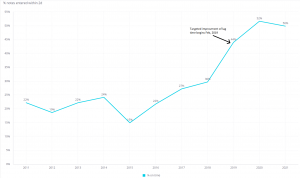 Schotchmer said, "A big part of stabilizing revenue was the ability to go from the highest level to the deepest detail in just a few clicks to find specific issues. It was way beyond what we could do with the EHR."
Still today, CCDC and Afia have continued its partnership. 
"As a result of this partnership, our leadership sees the value of our IT department and how necessary it is to our day-to-day operations," said Joe Cullinan, Chief Administrative Officer.   
CCDC has also continued to progress as a data driven organization, finding a great deal of value in the insights and instant access to data that is provided in the Afia Analytics platform.  So much so, that when Scotchmer was asked about her use of the system she said, "If someone asked me to do this job without these tools, I would say . . . No, it can't be done."
Rainy day?  Lost luggage?  Tangled Christmas tree lights?  Keep calm and call Afia.
All Thought Leadership