Implementing and adopting an electronic health record (EHR) system is a massive undertaking. Most healthcare organizations experience with a new EHR or even switching from one EHR to another. In most cases, EHR implementation planning accounts for significant time, resources, and upfront capital in the technology, testing, and design, but training is commonly an afterthought.
Although the selection and purchase of the appropriate system is a substantial cost, training is arguably the most critical element of the successful implementation and adoption of any technology. Even the best EHR is useless unless the staff is trained and comfortable with its capabilities. Training and education are critical to the improved quality of care for patients and financial sustainability for agencies. After all, any tool without instruction is destined for failure or underperformance at the very least.
Your EHR as a Tool
EHRs improve care through continuity and connectivity of information. Typically, they incorporate reporting and clinical functions together. Tools such as patient portals, telemedicine, e-prescribing, and e-therapy allow end-users and patients to connect through mobile devices, enabling treatment almost anywhere. Providers in separate locations, and from different agencies, can interact with the same data in real-time.
The potential of a high functioning EHR is obviously enormous, but there are also an endless amount of collaboration points, features, and functions to understand and use to take full advantage.
Why EHR Training Should be a High Priority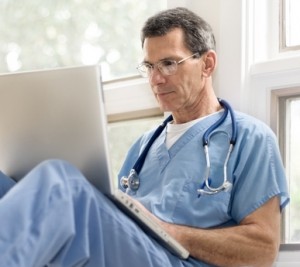 According to the Clayton Christensen Institute, "Trailing only heart disease and cancer, mental health is the third most costly chronic condition in the U.S., with a staggering price tag of $55 billion each year." Greater collaboration between healthcare providers, enabled through EHR integrated data, is needed to combat this epidemic. In addition, EHR training and education is directly proportional to enhancing the quality of care. A proactive agency realizes the benefits of investing in an EHR's education, and how not making this a priority is both a clinical and financial disservice.
Sharing information through health information exchanges (HIE) makes EHR content even more beneficial and valuable. As insurance companies transition more towards outcomes-based reimbursement, agencies must have an instrument to manage, analyze, and quantify data to show results. Agencies must prove their treatments are resulting in empirically-based, positive outcomes to receive payment. The information is too enormous and dynamic to track without a sophisticated information system. Proper education and training of EHR tools, and how to take advantage of them, is critical to ensuring quick and accurate reimbursement.
The Benefits of EHR Training
EHR training is incredibly valuable regardless of where you are in your EHR lifecycle. Once you have adopted an EHR at your organization, the training should really have just begun.  Education, at any point, presents the opportunity to:
Reevaluate and optimize processes and policies
Automate manual process as new features are available and understood
Use data more effectively as more is collected
Working in concert, these understanding how to use data and functionality help reduce expenses, grow revenue, increase margin, and ultimately achieve financial sustainability.
Proper selection and implementation of an EHR are of paramount importance when improving care and financially strengthening an agency. Organizations simply can't pull their resources and workforce away from day-to-day operations to implement an EHR. Afia specializes in matching the right vendor to the agency and matching the right EHR to the agency's workflow. We incorporate best practices with particular organizations' ideologies to produce a cohesive fit. With technology support and process optimization, we help reduce the majority of the internal resource investment.
Creating an EHR Training Plan
System training and education are at the foundation of our EHR Implementation Process, so we know how hard it can be to have a successful training plan. Every organization has different needs and resources, but very few have an existing group of trainers for each area of an EHR, available rooms, or the technology in place to train hundreds of staff at any time.
While training is customized to the agency, there are questions everyone needs to answer that apply to everyone in our experience:
Who are your training audience/s
How will you deliver the training? (video, in person, webinar, etc…)
How many people do you need to train?
What are the key items to cover?
Too often, there's a heavy reliance on the agency's workforce and resources for implementation training initiatives and no ongoing plan for post-go-live adoption. Without proper system training and planning, even the most capable EHR won't help an agency succeed. Afia has the experience and expertise to provide the proper project management and support needed to  Most importantly, Afia builds the foundation for overall success with superior EHR training and education at all levels of the agency.
All Thought Leadership