Meaningful Use is a term set forth by the federal government to define a set of standards that illustrates the difference between simply having an electronic health record (EHR) system installed versus applying it to the benefit of an organization and the organization's clients. The American Recovery and Reinvestment Act of 2009 (Recovery Act) authorizes the Centers for Medicare & Medicaid Services (CMS) to award incentive payments to eligible professionals who demonstrate Meaningful Use of a certified electronic health record (EHR) that can help offset the cost of EHR system acquisitions.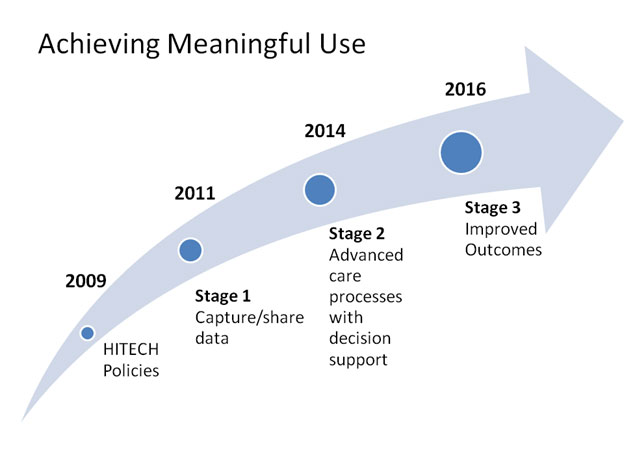 CMS has designed these objectives to drive better outcomes, increase transparency and efficiency, empower individuals for both caregivers and patients, and generate quality research data on health systems and those processes. For each year that an eligible professional (a clinician that meets specific criteria based on their patients' payers) successfully attests and demonstrates meaningful use, they are able to request incentive funds. These funds could total as much as $44,000 through the Medicare EHR Incentive Program – or as much as $63,750 through the Medicaid EHR Incentive Program.
An eligible professional in the Medicare program is defined as:
Doctors of medicine or osteopathy
Doctors of dental surgery or dental medicine
Doctors of podiatric medicine
Doctors of optometry
Chiropractors

Source: http://www.emrandhipaa.com.
An eligible professional in the Medicaid program is defined as:
Physicians
Nurse practitioners
Certified nurse-midwives
Dentists
Physician Assistants (PAs) in PA-led Federally Qualified Health Centers (FQHC) or rural health clinics (RHC)
Facilities are also eligible under both programs
Medicare Eligible Hospitals
Subsection (d) hospitals that receive payments under the hospital inpatient prospective payment system
Critical Access Hospitals
Medicare Advantage (MA) Hospitals

Source: http://www.hitechanswers.net.
Medicaid Eligible Hospitals:
Acute care hospitals (including CAHs) with at least 10% Medicaid patient volume
Children's hospitals (no Medicaid volume required)
Dually-Eligible Hospitals
A hospital is dually-eligible for the Medicare and Medicaid EHR Incentive Programs if it meets the following criteria:
A subsection (d) hospital in the 50 U.S. States or the District of Columbia, or a Critical Access Hospital; and
Has a CMS Certification Number ending in 0001-0879 or 1300-1399; and
Has 10% of your patient volume derived from Medicaid encounters.
Stage 1
The Meaningful Use Criteria is divided into three broad stages. Stage 1 is driving Data capture and sharing. For example, capturing information in a standardized format and using that information to track key conditions, communicating that information, beginning the reporting clinical quality measures and public health information, and beginning to use that information to engage patients and their families.
Stage 2
Stage 2 pertains to advanced clinical processes. For example, driving a health information exchange (HIE), accomplishing the integration of e-prescribing and labs into structured data, further increasing the electronic communications and allowing the patient to control more of the flow of information regarding their health data.
Stage 3
Stage 3 is intended to drive improved outcomes, specifically improving quality, safety, and efficiency, providing decision support for high priority conditions, and improving population health outcomes through increased access to comprehensive patient data.
Meaningful Use Eligibility
In order for an eligible professional or facility to meet the required criteria successfully, they must be engaged and utilizing a "Meaningful Use Certified" EHR system. The office of the National Coordinator for Health Information Technology (ONC) has defined a process to ensure that EHR developers meet the necessary standards and criteria to enable eligible professionals and facilities to achieve meaningful use. It is in everyone's best interest to begin acquisition, implementation, and utilization of a Meaningful Use certified EHR system, as the incentives program will expire by the year 2021. However, with that expiration date in mind, in order for a facility to receive the maximum amount of incentive funds the process must start by 2016 as the funds are split year over year.
More Information on Meaningful Use
If you or your organization is interested in more information on Meaningful Use, CMS Incentive Programs, or selecting an EHR system, contact Afia today.
All Thought Leadership