Finding the System is Just the Start
After spending months of your life in meetings to define requirements, writing RFPs (request for proposals), attending demos, and then finally selecting a system, you are probably ready to kick back and… Write a great contract! While a contract is many times an afterthought in the process of procuring new IT systems, Afia has found through years of supporting system selections and implementations that contracting is really at the core of ensuring a successful implementation. While it would be nice to shake hands with the vendor and be done, there are too many moving pieces with large system implementations – and too many negative impacts to your business that can occur – to not prioritize strong language to protect your investment. As Samuel Goldwyn once said, "a verbal contract isn't worth the paper it's written on."
Why is the EHR Contract so Important?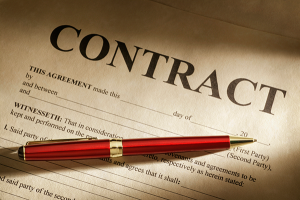 The importance of contracting can be explained through a relatively common story that may sound familiar to anyone that has ever completed an IT system implementation. Let's say that you've purchased an EHR (Electronic Health Record) system and have just started the implementation process with the vendor. Everything is going well at the start, but then one month into the implementation the vendor starts being less responsive to your needs. Your project begins to move at a much slower pace, and within just a few weeks you feel like you're in danger of missing your deadline for going live. Then, on top of that, during a meeting with the vendor you find out that functionality that you thought was included in the system is actually out of scope and will be a substantial fee on top of the costs that you've already been quoted. At this point, your implementation is in danger of going well over the timeline and pre-defined budget, and you begin to worry that this project is going to fail. First, you may reach out to your vendor's project manager with limited success. Then, perhaps you try to escalate it to a higher level at the vendor, but the problems remain. So, at this point where do you turn and where is your protection?
While this example may seem extreme, it can be very common to run into issues like this within an implementation. A properly written contract, in a sense, can act as a type of insurance policy for the health of your project, ensuring that you get exactly what has been promised in the sales cycle. For example, what if you had a list of every function that you expected to be part of the system signed off on by the vendor in the contract? What if you had milestones built into the contract that created a very structured process for when the vendor will be paid? By doing so, you are creating a path for continued success, and for setting expectations up front for both yourself and the vendor. And, just as importantly, you are creating for your organization a solid foothold through the lifespan of the project, so if you do end up having issues you won't find yourself stuck in a corner with no way out.
How to Ensure you have a Strong EHR Contract
Below are some tips and suggestions to help make sure that your IT investments and projects are well covered, and that your contracts will help you deal with issues both large and small during the life of your project.
Begin planning for the contract on Day one of the project. Every document that you create, every meeting that you have, and every promise that you're given from a vendor should help you build the bones of the contract that you end up signing with your vendor of choice.
Make sure that you consider every facet of the project while creating the contract. This should include the detailed specifications for system functionality, the milestones and timelines for implementation and delivery, and the full definition of ongoing support that the vendor will provide.
Similar to the insurance policy analogy mentioned previously, make sure that you have a reasonable out clause in the extreme case that the implementation is not meeting expectations, or that the actual system functionality does not live up to what was shown throughout the sales process.
If you find yourself immersed in the EHR selection process and need guidance, contact Afia today at (734) 418-8162.
---
Matt Hoffman, Managing Partner at Afia, Inc.

Matt is the Managing Partner of Afia and has been involved in entrepreneurial healthcare ventures for over fourteen years. Matt works closely with organizations to devise comprehensive strategies to manage their IT investments, and is also frequently involved in the process of assessing, selecting, and implementing electronic systems for our clients.
Phone: (734) 249-8402 | Email: matt@afiahealth.com | LinkedIn
All Thought Leadership