2017 is a big year for Afia. In November, Afia will be celebrating its 10 year Anniversary. We've accomplished a lot over the past decade. We've worked with well over 100 clients across 27 states. We've worked on hundreds of projects that have positively impacted both the organizations that hired us and the clients that they serve. We've built a team of 27 exceptionally talented staff that come from diverse backgrounds ranging from Social Workers to IT Infrastructure Engineers. And as we look at what's next we feel like we're just getting started.
This is a very exciting, yet nerve wracking, time to be in healthcare. The advancement of technology offers the promise of connecting people and solving problems faster than ever before in our history. At the same time, the constant changes around rules, regulations, and reimbursement leads to indecision and uncertainty. It's in this environment that we've positioned ourselves to support healthcare organizations with a team of experts across a full continuum of services. We strive to be a trusted partner to improve your organization's clinical delivery, financial operations, and technical infrastructure. To accomplish this, we've developed services that include: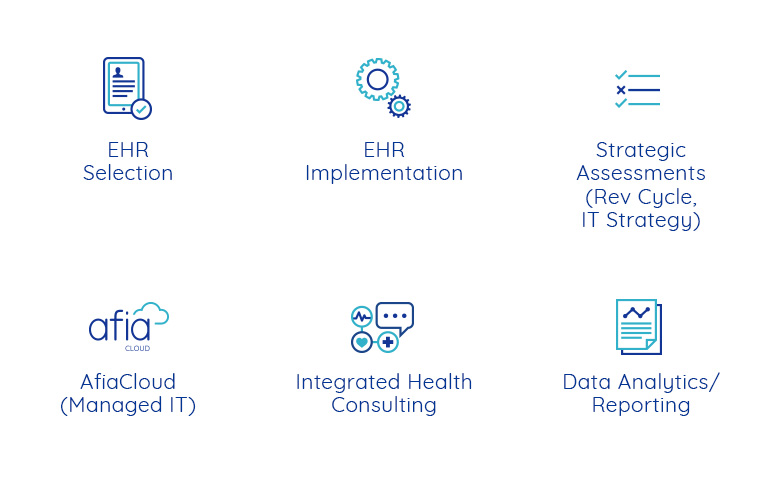 As we approached this milestone, we also decided it was time to review our brand identity to make sure that it aligned with who we are as a company. While the mission and guiding principles held up well, the way that we communicated about ourselves to the outside world needed a significant update. We're no longer a company of 4 people. We're no longer trying to get our feet wet in this industry. We're no longer "just those EHR people". Over the past decade, we've made a substantial impact within the healthcare industry, and we want our brand to illustrate that fact. With that said, I'm excited to introduce our new brand statement below, and to invite you to come visit the completely re-designed website (afiahealth.com) that we're launching today:
At Afia, we've seen the future of healthcare. It's technology that is more than useful; it's connected and kinetic. It's teams working together identifying root cause instead of simply symptoms. It's a complex healthcare ecosystem working together to become leaner, smarter, and most importantly, more effective. We are Afia. We want to solve your today problems while preparing you for tomorrow's vision.
All Thought Leadership